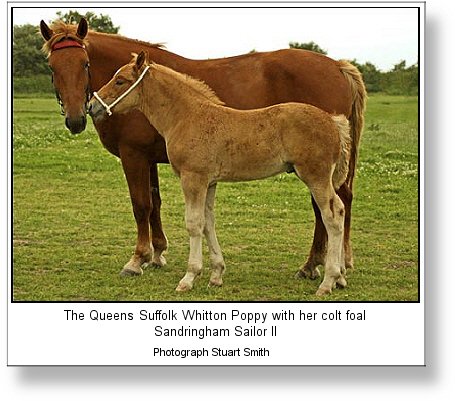 The fight to safeguard the future of the Suffolk horse has received a boost from none other than Her Majesty the Queen. In 2003 the Suffolk Horse Society presented the Queen with a filly foal - Whitton Poppy - bred by Tom Walne from Ipswich.
Earlier this year Poppy gave birth to a foal of her own, which has been named Sandringham Sailor II after a Suffolk horse once owned by the Queen's father, King George VI. Sailors sire is Fenland Eric who has to date sired 43 pure bred Suffolks.
To make the event even more special Sandringham Sailor II is the 9,000th colt to be registered since the Suffolk Stud Book began in 1877.
The Suffolk is still a critically endangered breed according to the Rare Breeds Survival Trust although through the work of the Suffolk Horse Society the breed numbers are slowly increasing.
"Before the First World War there were more than two million heavy horses used on farms in the UK. Now the breed is considered by some to be more endangered than the Great Panda, with only 420 registered - 110 of which are geldings," said Amanda Hillier, SHS Administrative Secretary.
Chris Bushby, Suffolk Horse Society Chairman, said that 35 foals had been registered so far this year, of which 23 were fillies. "I think it is excellent that the horse we gave the Queen has foaled. The breed is still very rare."
Hopefully Sailor could become one of the breed's registered stallions if at two years old he is found to conform to breed standards.
Suffolk Punch Horses are a favourite with royals and celebrities alike. The Princess Royal, Prince Charles and even Sting own horses of this very rare breed.