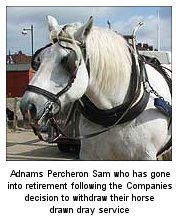 Last September saw the final journey by the Percheron dray horses from Adnams brewery in Southwold, Suffolk.
The heavy horses had been a familiar sight in the town for over 30 years, but with the opening of a new distribution centre at Reydon, the company decided that deliveries by dray would no longer be feasible. A spokesman for the brewery denied the decision was a cost saving exercise and instead pointed to the fact the journey from the new depot was too far for the heavy horses to pull the weight of the barrels and the road was so busy they could cause a serious traffic hazard.
Of the two Percherons which provided the service Sam, 15, went into retirement with a local farmer, while the younger Monarch returned to Spalding in Lincolnshire to work for another company.
Andy Wood, Commercial Director at Adnams, doesn't rule out the possibility that the horses may come out of retirement for very special occasions.
Heavy horses at Adnams were originally phased out with the coming of the lorry but were re-introduced in 1970 and proved to be a popular attraction. Many people feel the latest move will be a great loss for Southwold as the presence of the heavy horses on the streets attracted tourists from across the world.