Tracy Pilkington - Ohio USA
1 cup of distilled vinegar
1 cup of water
1/3 cup of dawn dish washing liquid
use in any proportion. shake well before each use.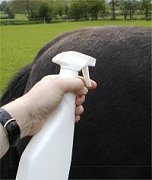 Click here to submit your recipe
Diane Key - Staffordshire UK
15ml Citronella Oil
2 Tablespopons Methylated Spirits
1 Tablespoon of Washing Up Liquid
4 Tablespoons Vinegar
1 Mug of Cold Strong Tea

Mix with 2 Litres of Cold Water and fill appropriate spray bottle.