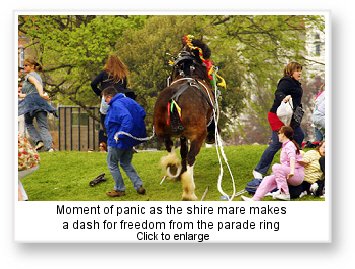 Three people were taken to hospital with broken bones and shock following an incident at this year's City of Portsmouth Heavy Horse Event. The event, which has been held at Southsea for 23 years always attracts large crowds, but in all that time has had a spotless safety record.

Unfortunately this year proved the exception. During the prize giving parade a shire horse broke away from it's handler and careered through a safety barrier and scattering the crowd of spectators at the side of the ring.

Two people suffered broken ankles and a pregnant woman had to be treated for shock after she was knocked from her chair by the rampaging mare.

The horse was being handled in the ring by a woman in her early 20s, who suffered a broken ankle after being dragged several feet across the grass as she tried to stop the horse from bolting.

An eyewitness Alan East who lives in Southsea said,

"You could see the horse didn't look happy as it was being paraded around, it was kicking out. Then it careered off round the field and suddenly crashed through a fence and it was away."

"People were screaming as they saw it coming. There were lots of children running around and it was lucky it didn't hit any of them."

"People were very shocked. Three people were on the ground. It was very lucky more people were not hurt, it is a big animal."

The show was managed by Portsmouth Leisure Community Association on behalf of Portsmouth City Council and both organisations now intend to carry out a comprehensive review into the incident in conjunction with the Health and Safety Executive.

Councillor Terry Hall, Portsmouth City Council's Executive Member for Culture and Leisure, said: "The horse show has been running for 23 years and this is the first time we have had an incident like that."