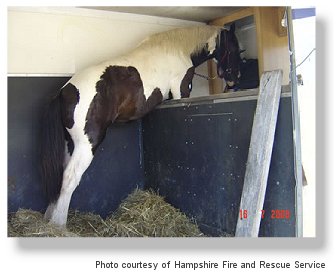 Hampshire Fire and Rescue Service would like to highlight the importance of making regular checks of horseboxes and trailer's following a spate of serious incidents in the county.
Firefighters rescued a 15 year old horse stuck by its off hind in a horsebox last month in King Somborne, Hampshire. Control Room operators received the 999 call at 23:00 on Thursday, 26 June and were alerted to a trapped 16.1 hand Irish draft cross called Argyll. On arrival, crews requested the attendance of an ambulance for the owner, who was suffering from serious facial wounds sustained in an attempt to rescue her horse. The Animal Rescue Team, supported by vet Alix Jackson from Stable Close Veterinary Practice released Argyll, cutting away the wood and steel frame to extricate the horse, which had to be heavily sedated whilst trapped in the horsebox.
In a similar recent incident, a New Forest Pony's leg dropped through the floor of a horsebox - much to the distress of the owner who witnessed the incident from the vehicle behind.
On Friday, 11 July, Hampshire Fire and Rescue Service was called to an incident on the A303 when an Irish Sport Horse punched its way through two partitions of its horsebox. Two young ladies were injured during the incident; one with a broken hand and one with a suspected broken foot. The horse, standing 16.3 hands high, had become highly distressed when its tail bandage had got caught. The ladies' injuries were sustained as a result of trying to assist the animal inside the box.
A Fresian gelding also launched itself over the partition of a lorry at Rownhams Services on the M27 recently. The horse tumbled out through the back door of the van onto the tarmac. Again, in an attempt to calm the situation the driver sustained a suspected broken foot and the horse had to be sedated in order to return it to the box.
This week a 14hh coloured filly did exactly the same thing, this time in a stable yard. By calling the emergency services and vet early however, this situation was calmly resolved without human injury.
Watch Manager Jim Green said:
"Any animal trapped in a confined space presents a highly dangerous, unpredictable situation. This type of incident requires the immediate attendance of a trained animal rescue team, working closely with a vet who will assist with chemical restraint, triage and aftercare. Animals in distress cause people to rush in to help but this may well lead to serious personal injury as the recent incidents show. We would urge owners not to enter any confined space with a distressed horse."
Hampshire Fire and Rescue Service urges horse and pony owners to think about the following tips to ensure their journey is uneventful and if a situation does arise that they can react positively and calmly - don't wait until you are parked on the side of a busy road with an explosive situation developing!
Hampshire Fire and Rescue Service offers the following top tips for horsebox safety:
Always check that the floor of the vehicle is in good condition.
If your lorry or trailer has a wooden floor, check it regularly for signs of rotting or damp patches.
Make sure your lorry or trailer is regularly serviced, including a thorough check on the brakes.
Power-wash the outside and underside regularly, especially after use.
Make sure the lights and indicators are working correctly.
Occasionally remove floor matting or bedding, power-wash inside and allow to dry thoroughly before replacing.
Regularly check the tyres for signs of wear and ensure that tyre pressures are correct.
Never use a single axle trailer to tow a horse.
Ensure the towing hitch is the correct height for the trailer and that the trailer can be towed level, to prevent uneven tyre wear.
Always carry a fully charged mobile phone with you - even on short journeys.
Make sure you carry the emergency helpline number for your breakdown / recovery company, vet and insurance company.
Make sure that the combined weight of your horse and trailer does not exceed the safe towing limit for your vehicle - if in doubt, check with your vehicle and/or trailer manufacturer.
Drive smoothly and thoughtfully, avoiding sudden braking and jerky manoeuvres - your horse cannot see where it is going and is therefore unable to prepare itself for sudden movements.
Control your speed and observe the speed limits for your vehicle.
Always load a single horse on the right and if possible travel two horses together.
Ensure horses/ponies wear travel protection.
Check the integrity of the inside to remove the chances of a horse becoming injured.
On journeys take a passenger who can assist in the event of an incident.
Think about installing safety devices in trailers, such as the TUI Bar, to remove the need for anyone to enter the box if a horse goes over the breast bar.

In the event of an incident, stay calm and follow these steps:
Contact the fire and rescue service and police for assistance on 999 and give a detailed account of the situation and your exact location so that appropriate resources are deployed.
Golden rule - never release a trapped animal unless there is a safe place for it to go and the appropriate control measures are in place.

Watch Manager Green added:
"The next time you are busy checking over your horse or pony, please spare a thought for the horsebox or trailer in which it has to travel. Reports of floors giving way while horses are in transit are not uncommon and can result in serious injury. Remember - your horse's safety depends on you, so please make a date in your diary to check your lorry, van or trailer every month."