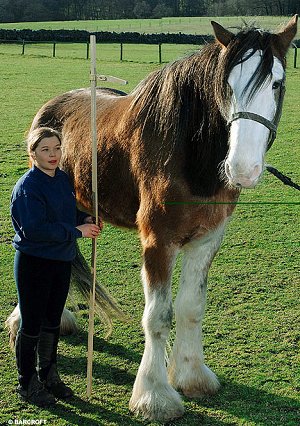 At four years old Digger the Clydesdale is still a youngster and still has some growing to do. Although even now Digger is set to enter the record books as Britain's biggest horse as he already measures at 19hands (6ft 5in) and weighing 900 kilos.
Digger arrived at the International League for the Protection of Horses Belwade Farm in Aberdeenshire, Scotland in December after a call for help from his owners, who because of serious health problems were finding it increasingly difficult to cope with such a big horse.
"Digger is the largest horse we have ever had to deal with and at just four years old, is still a baby. We can't measure him absolutely bang on because our measuring system doesn't go past 19 hands. He is the about 6 ft 5 inches hoofs to withers - which is hooves to the top of the shoulder. His feet measure between 10-15 inches - a good foot across."
"He was hand-fed as an orphan and from then on he just grew and grew. He needs to grow into himself and will certainly fill out. Heaven knows what size he is going to end up. Digger is certainly over 19 hands and when his head his up he will measure up to 9 ft," said Centre Manager Eileen Gillen.
Digger's unusual size means that he has a bigger appetite than most horses.
"Because he is a growing lad he is a little under weight. But he is eating three times more than a normal horse and consuming about 20-25 gallons of water a day. We have a big yard and he lives in there, but even to get him here we had to get a specialist lorry with lower stabilised floors."
"He is a big docile horse - he will do what he wants. He is not one for running around. He takes life very slowly, which is the nature of his breed," added Eileen.
However Digger can't just yet claim the title as the tallest horse in the world. The current Guinness Book of Records gives this accolade to 19.3hh Belgian draft gelding called Radar, from Mount Pleasant, Texas, although last year a Shire Horse mare in Niota, Tennessee was measured at 20.1 hands and she is expected to grow to at least 23 hands. In September last year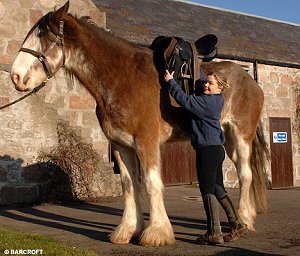 Britain's other contender for the tallest horse title - Cracker, the Shire Horse died at the Northcote Heavy Horse Centre, Spilsby, Lincolnshire. Cracker was 19.2 hands and weighed in at a massive 1200 kilos (2645 lbs)
However Guinness World Records record the world's tallest horse as a Shire gelding named Sampson (later re-named Mammoth) who was foaled in 1846 in Toddington Mills, Bedfordshire, England. By the time he was a four-year old in 1850, he was 21.2 ½ hands tall. His weight was estimated at 3,000 lbs.
Digger, who will remain at ILPH Belwade Farm until his rehabilitation is complete, has already attracted a lot of attention, having been featured on BBC Scotland Tonight and in the Aberdeen Press and Journal, the Aberdeen Evening Star and the Scottish Daily Mail.
Click here to see BBC News Scotlands report on Digger